The Central Adriatic with X⁴³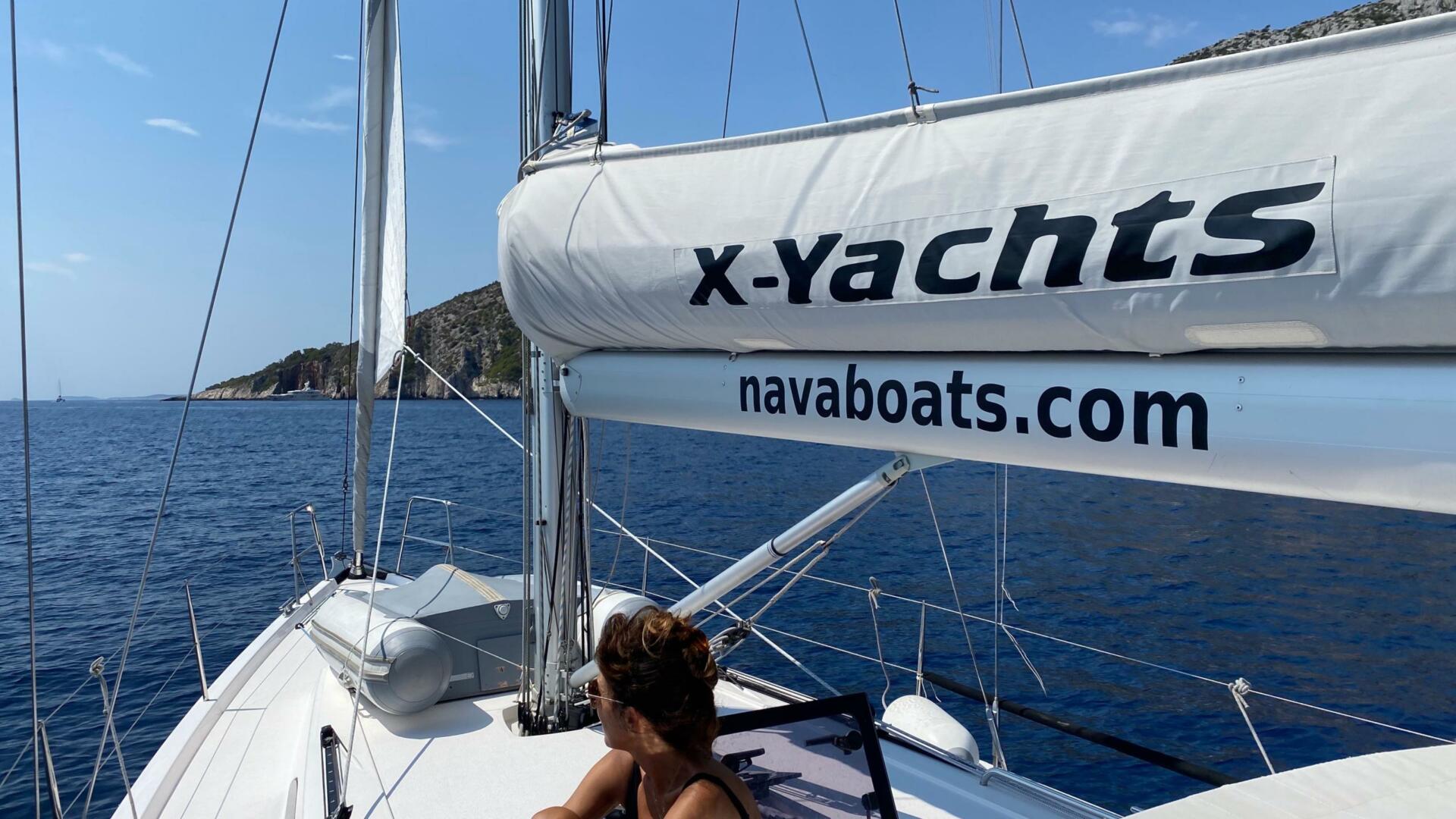 Experiences, images, flavors, and smells are not easy to put on paper, but we will try our best to depict what sailing The Central Adriatic and Dalmatia feels like and give you a few recommendations.
Above all, good company is of key importance. Under the sails, this team is made of captain and the crew. When relaxing and chilling in the breeze, they are your family and friends. Since safety and responsibility on board are always number one priority, having one person in charge is crucial.
After establishing "the rules of the game" and defining the captain, it's important to get to know the sailboat before leaving the harbor. Because the X43 is an exceptionally well-equipped and sailing ready yacht, it was a particular pleasure to learn all about it. Moreover, Nava does their job extremely well, so the check-in went smoothly and in a friendly manner. We recommend you plan your sailing route ahead, at least partly, and adjust it according to the current weather forecast.
We provisioned our X-Yacht well with groceries and liquids, just for the first few days since nowadays, towns and ports along our route are well supplied so there is no need to clutter up storage space on board.
After all checkups and arrangements, it was time to leave Split.
An afternoon sail-off almost certainly guarantees excellent sailing conditions. Mistral is a loyal companion of any ordinary summer day. This western wind is usually mildly blowing in the afternoons which makes it ideal for sailing. Our X43 immediately accepted "the game" and our sails began pulling us towards our first destination – Maslinica, on the island of Šolta.
It's a small town with a gorgeous marina complex. Crystal clear sea, picturesque sunset and a lively place dominated by the 18th century castle/fortress (within the marina) will blow everyone's mind.
The following day, Jugo, a cyclonic wind blowing from the southeast, with a speed of 15 knots, accompanied us towards the Island of Vis. Lifting the mainsail goes smoothly due to the high quality hank system and the electrical winch that does its job exceptionally. Our X43 demonstrated excellent maneuverability, and our six-person-crew strived to lessen the heeling by staying on the leeward, just like on regattas. This directly affected our speed and we managed to sail 9 knots. Vis is a lovely island and saving more than one day for touring is rewarding. Due to the incoming storm, the port was overcrowded with boats and everyone looked for an extra berth. Bad weather worried no one since Vis town is full of curiosities and exquisite restaurants. Moreover, it is a great starting point for the Island inland and local family farms (tip: get some local wine Vugava).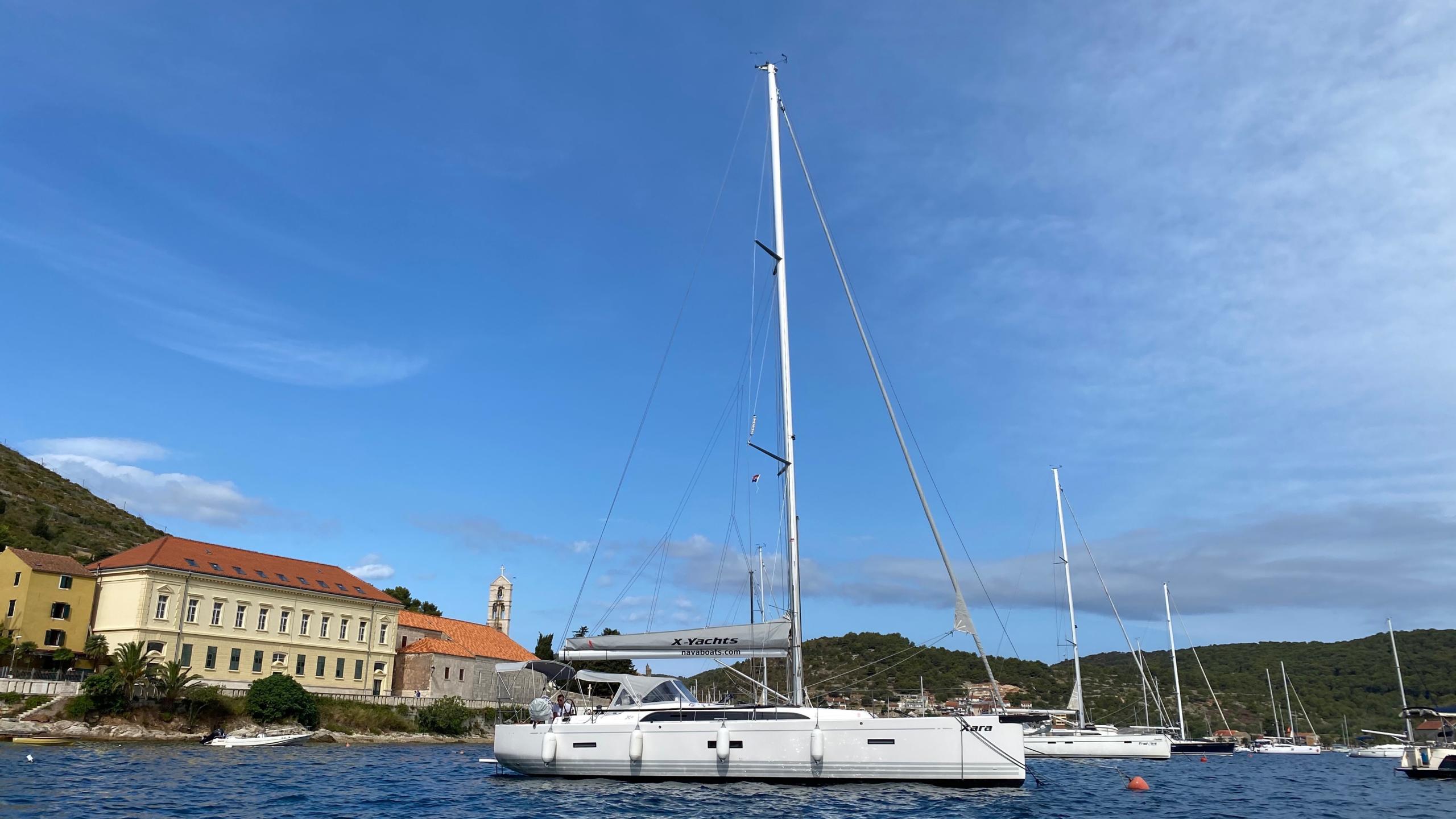 In better weather conditions we would have visited Blue Cave and the sandy beach Porat on Bisevo, Green Cave on Ravnik, gorgeous bay of Stiniva and/or Budikovac lagoon.
We continued our cruise towards Korcula. The weather was at odds with the summertime. Gusts of Bura wind, as strong as 20 knots, occasional rain, and downpours, turned our sailing into a true little test for the X-Yachts. We navigated with all sails set, strongly towards the wind. With optimal sail trimming, even in the wind of this intensity, we did not shorten our sails. The rigging of the X43 is modern with a smaller front sail, jib and big mainsail which enables smooth adjustment to the wind changes and great maneuverability as well as simple course handling. However, if your crew is less experienced we recommend shortening the mainsail which. Thanks to good equipment and ergonomics, this can be done quickly and it tones down the stress and loads not only for the boat but for the crew as well. We quickly advanced, with sailing speed up to 7 knots, and fully enjoyed the safety of our yacht. We spent the night in Vela Luka. This is not a fancy place, but now with the newly opened marina it is certainly going to be even more popular among sailors.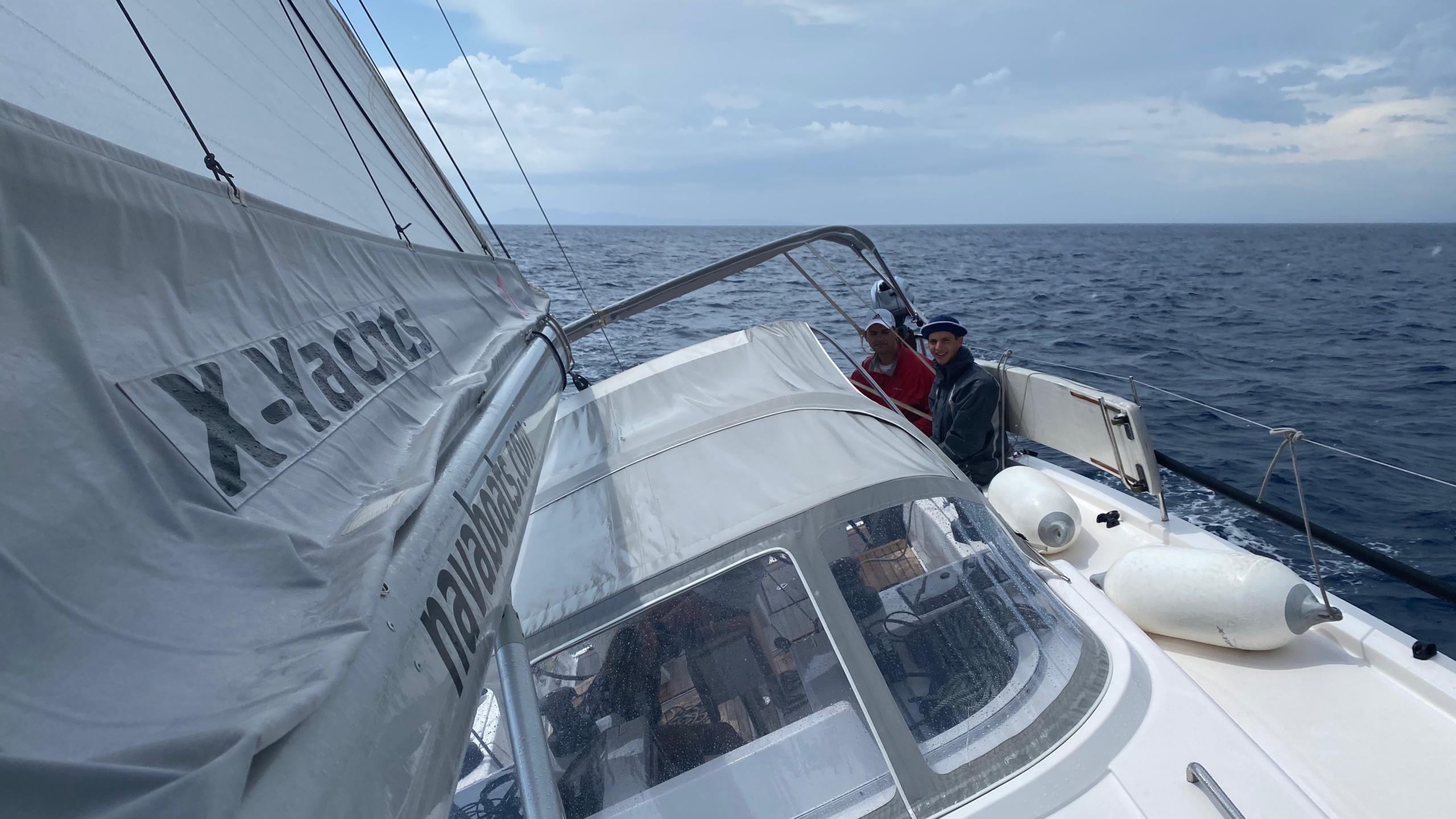 The following day, we decided to sail towards Korcula town, navigating along the south side of the Island. We anchored twice for quick swims, in the Prznjak bay and Przina (Lumbarda) cove.
Cruising among the numerous islands in the Korcula channel is always a unique adventure. Still, bear in mind that the Korcula channel is brimming with islets, shoals, and cliffs. As long as the sea is clear and with a healthy dose of caution, you should not have any troubles. Korcula town is, among other things, according to legend, the hometown of the great explorer Marco Polo. So, don't miss out.
By now, we have become fully aware of how exceptionally comfortable our X-Yacht was for our 6-person crew. Three cabins, two bathrooms, well-equipped galley with two fridges, cozy interior and numerous features offer comfort and safety at any given moment.
The following day it was time to start sailing back.. Mistral winds in Korcula channel are a bit stronger than in other locations. Many surfers enjoy the winds and waters close to Viganj on the Peljesac peninsula.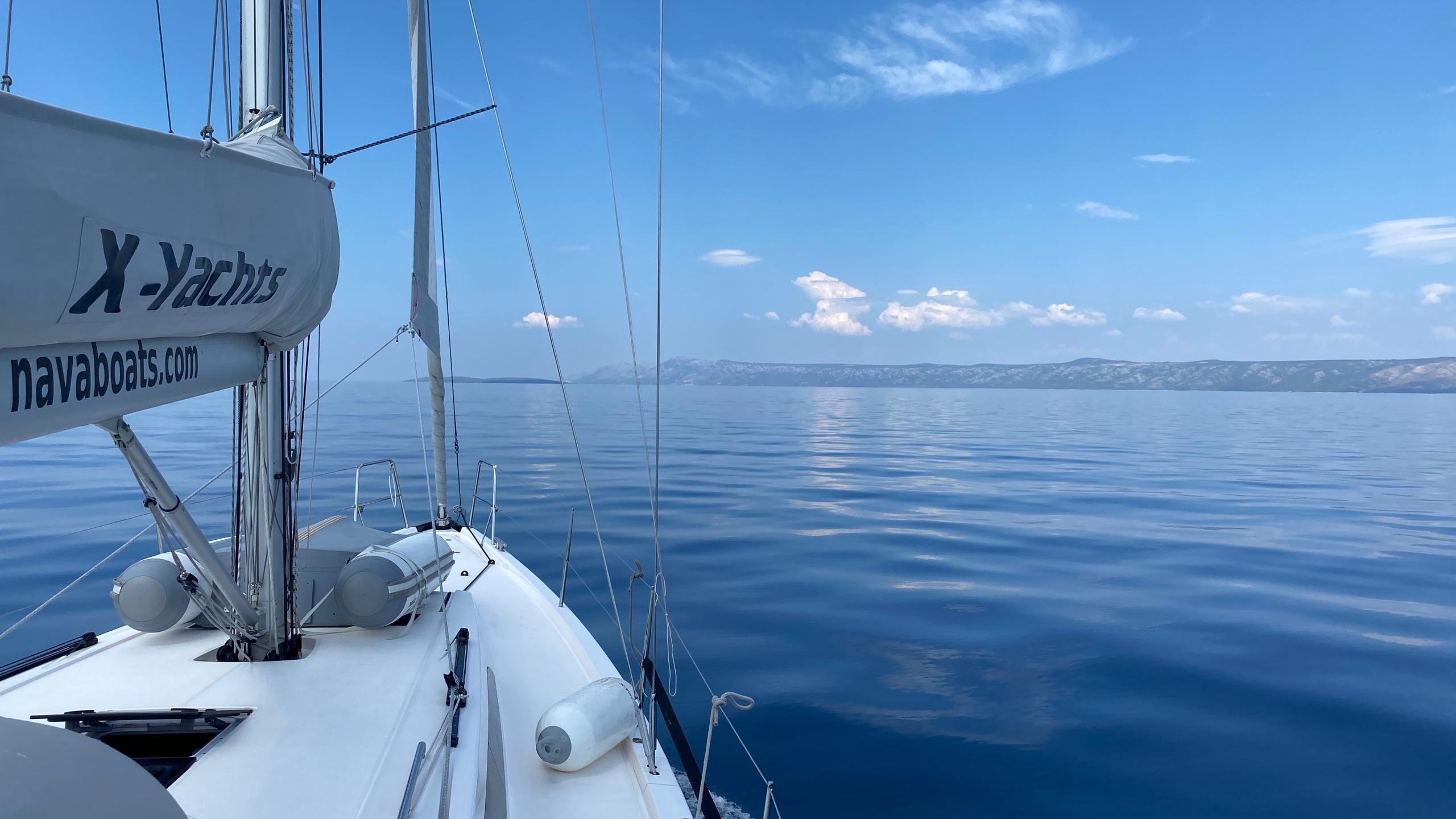 After two hours of sailing, we stopped by the small island of Scedro. We recommend the Loviste bay since it protects your yacht from the most winds or Carnjena, which is exceptionally gorgeous and safe for anchorage.
We continued towards the Island of Hvar, while admiring the entrancing shore and vineyards of Zavala, Ivan Dolac and Sveta Nedilja. If the opportunity arises, supply yourself with some Mali plavac wine which is specific for this region.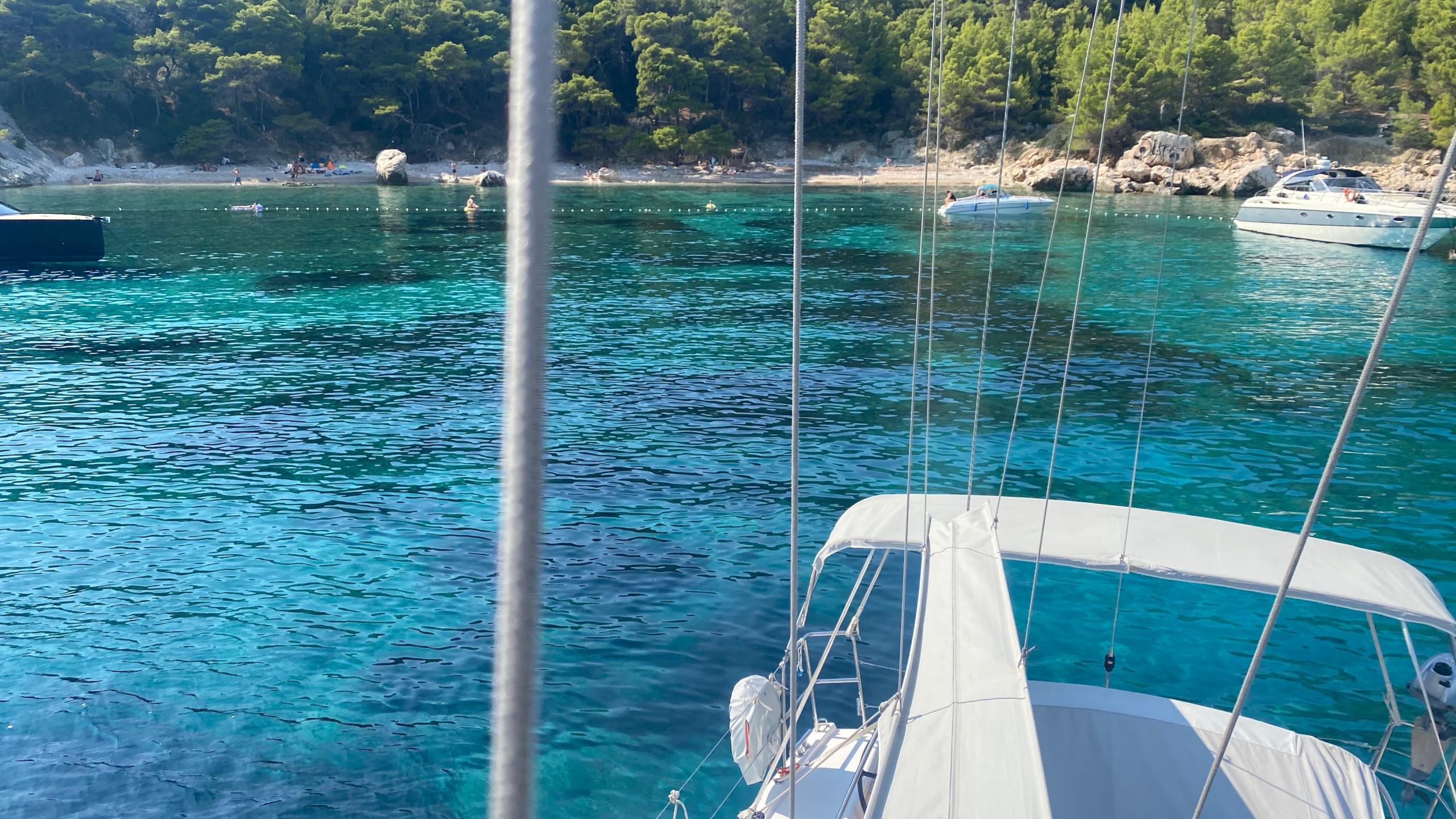 Regarding our final stop, Pakleni islands, it is impossible to depict them. You will have to come and enjoy every bay, every beach, murmur, and beauty. Here, life thumps, and you feel it in every wave, bliss of wind or ray of sunshine. Truly an ideal conclusion to our route.
The following day, slightly tired, but full of impressions, we sailed towards Split. Light Mistral surely followed us all the way to Nava marina, where we softly said goodbyes to our X43. We are already looking forward to adventures and cruises that are yet to come.
A week at sea by Ivan Kuret
August 2020