Superior Sailing Pleasure in Beautiful Adriatic — Croatia
When sailors return from their charters, with a golden tan, beaming faces, and some stories to share, we often hear "We didn't expect that!".
Croatia is full of surprises and the Dalmatia region exceeds sailors' expectations daily. If you think the coastline and islands of Dalmatia are "just another" part of the Mediterranean, you are greatly mistaken.
The truth is, the Croatian Magic is a perfect blend of the best things: Sun and wind, nature and culture, scenery and people, food and adventure.
Let the country capture your heart!
Get your map out
The best way to embrace the sailing lifestyle is being right in the middle: the Adriatic wind on your face, taste the salt of the sea, chatting with the locals, and a bottle of local wine, waiting in your galley fridge.
Perhaps the hardest choice you will have to make when sailing on Adriatic is deciding where to go. We are serious. The abundance of (1246!) islands, beaches, bays, and charming marinas can easily overwhelm visitors. The last thing you want is for your sailing crew to have a fallout when picking a beach to head to first.
Draw up an itinerary or let our Nautika Centar Nava team help you with that. Don't forget to include a back-up plan in case our infamous Bura winds cross your sails.
Start your day
If you haven't heard locals say "Pomalo" to each other, you're not in Dalmatia. What does it mean? Take it easy, slow down, no worries. It's the Dalmatian way of life, captured in one word.
"Pomalo" should be accompanied by the second most Dalmatian thing: Coffee.
In Split, we set our sails in the afternoon, after a relaxed start in your day.
Not only does it set the tone for your charter, but the Mistral wind takes you and your X-Yacht out on the sea with ease. A mildly blowing, western wind? This is how we start our day!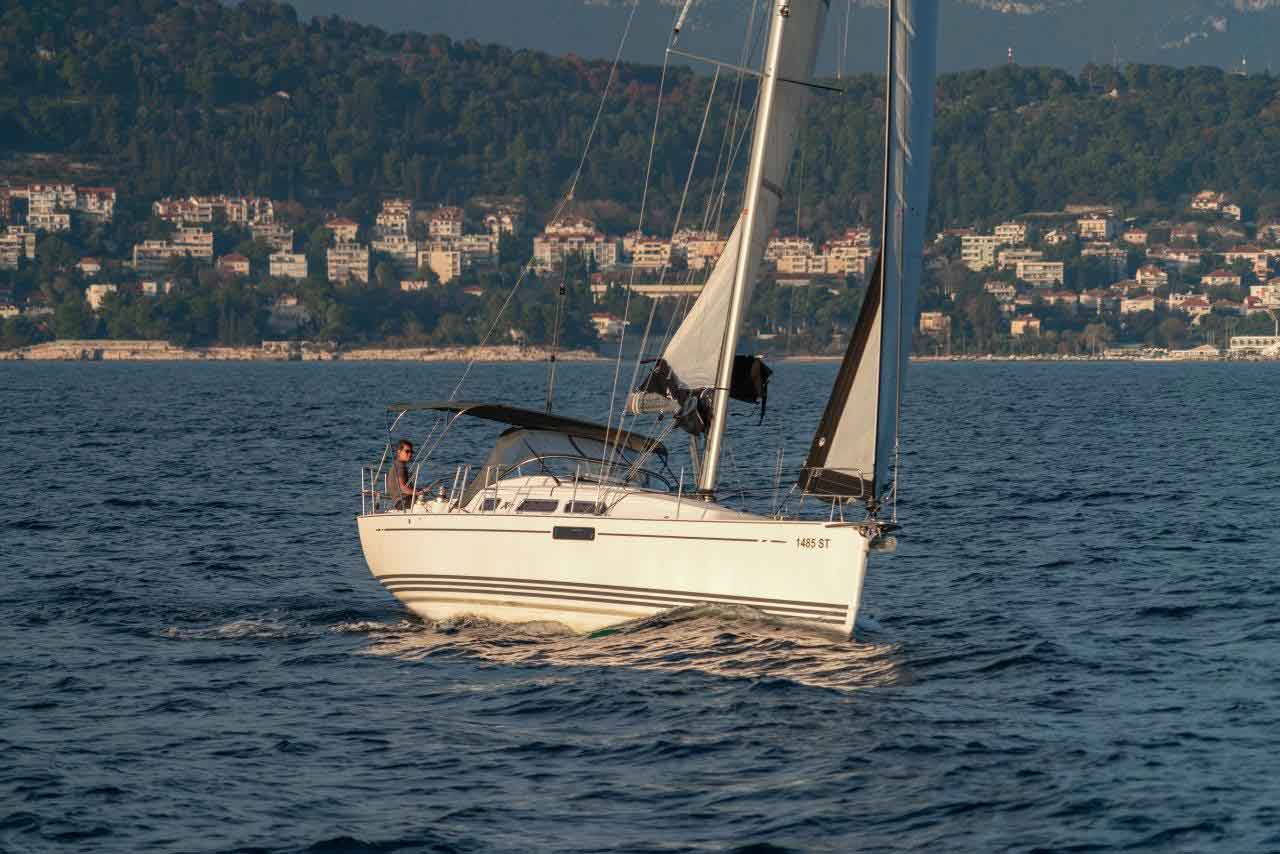 Visit our neighbors
From Split, a great starting point is Šolta. Maslinica offers crystal clear water for swimming. While the charming small town and its marina invite you to explore the local life, the 18th-century castle leaves you dreaming about past times.
Another great first stop is the legendary Golden Cape beach on Brac Island, stretching out into the Adriatic sea. You're afraid the sea might be too cold for you? The Adriatic sea warms up to 25+°C in the summer months! So don't wait, jump from your charter boat right into the turquoise water.
From there, continue the charter, your X-Yacht can take you to explore the neighboring islands of Hvar or Pakleni.
Let's Dock and Roll
If you fall in love with the island atmosphere, stay a while. Your X-Yacht is not only made to harvest wind, it is also your home, your favorite sun lounge, and your adventure platform.
Plenty of room to relax onboard, a generous bathroom layout, and enough fridge space to keep the cold drinks coming. You will not miss mainland life for a single second.
Of course, you can let the locals cook up a feast for you, in one of the many seaside restaurants. Or promote yourself to yacht chef, stock up on fresh seafood ashore, and create your own menu.
And you wouldn't be chartering with Nautika Centar Nava if we didn't have some extras for you: Our X-Yachts have plenty of room for water toys, such as SUPs, inflatables, and snorkeling gear. Ask our team about all water accessories we offer.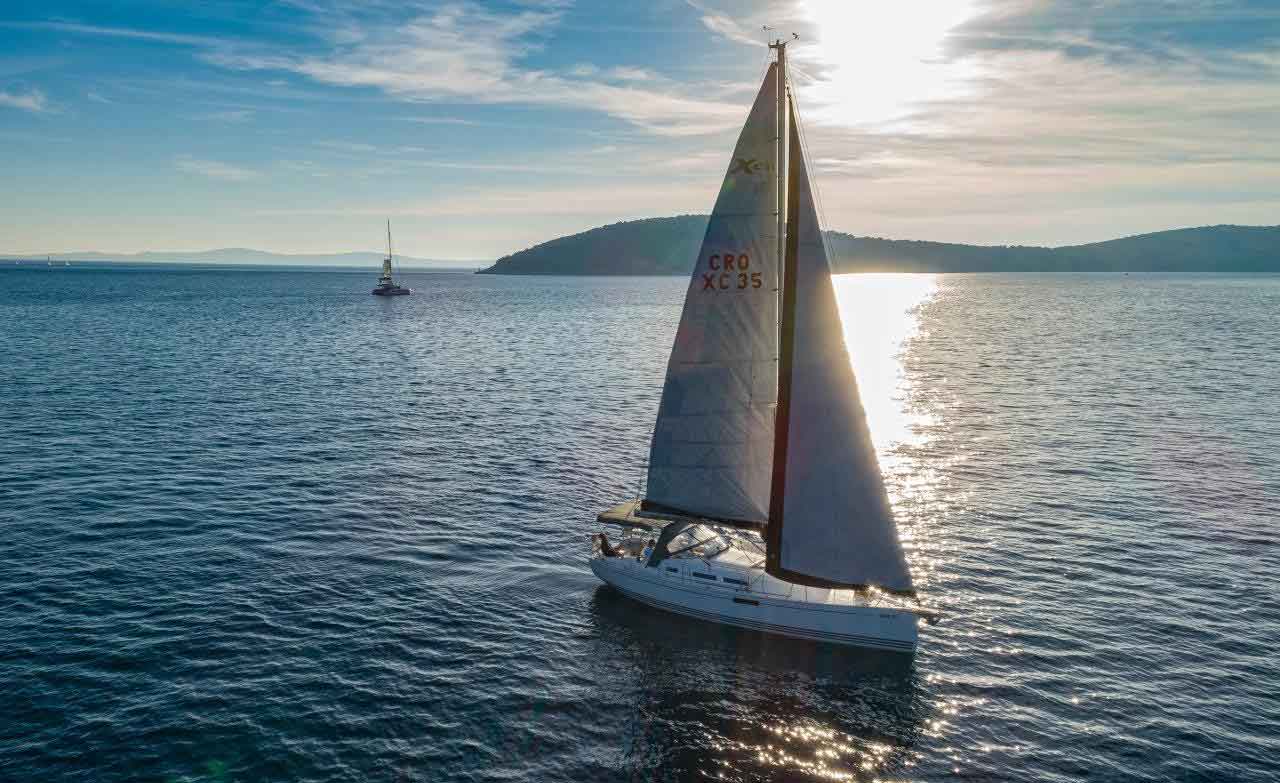 Take the sea-nic route
But don't just lay in the sun, there are more than enough sunny, blue skied days.
Each year the sun shines between 2300 to 2800 hours. Not many Mediterranean destinations can keep up with that!
Sail on and chances are, you encounter some more, typical, Adriatic winds.
Jugo is one of them, a southeasterly, cyclonic wind. It can easily reach around 15 knots of speed. But don't worry, the high-quality hank system makes it easy to lift the mainsail. The electrical winch is another smart feature making sailing aboard your charter X-Yacht effortlessly.
With the brand's background in racing and focus on performance, you experience exceptional maneuverability onboard in any condition.
If your crew is experienced and the wind is right, don't hesitate to get into regatta mode and stay on the leeward to decrease heeling. Let your X-Yacht pick up the speed and make the most of its regatta heritage!
Where will the wind take you?
We recommend Vis. Stiniva beach and the blue cave made the island famous, but really the authentic culinary scene and laid back atmosphere, captivate sailors on their charter around Vis. Nava's local tip: Try the island's Vugava wine.
Either way, onboard your X-Yacht, you have the opportunity to make the most of these locations. Explore them on your own schedule, without the restrictions of preorganized tours and itineraries.
Sailing on, Korcula is the next stop in the South. The delightful island is located further away from the mainland, bearing the possibility of winds from the open sea. But don't worry, X-Yachts are not only built for performance and comfort, safety is the key value of the Danish manufacturer.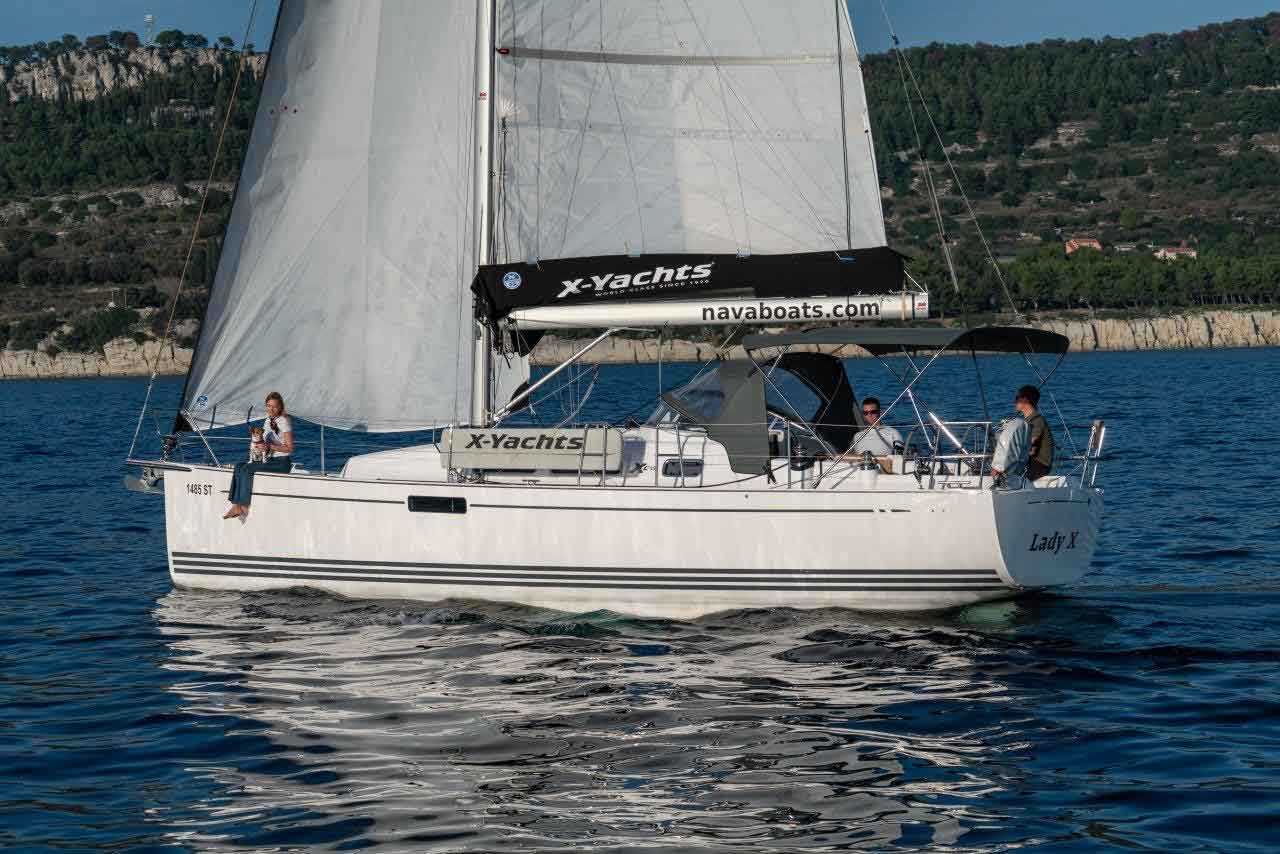 May the wind be with you
It is uncommon in the summertime, but if you make the most of the shoulder season in May or September, you'll meet Bura! Strong gusts, up to 20 knots, are accompanied by rain. Putting your X-Yacht to the test. Less experienced sailors better seek shelter in a close-by bay.
But with the right skills and crew on hand, trust your vessel and harness the wind.
X-Yachts are equipped with optimal sail trimming to work with the intensity of Bura.
Adjusting your sails smoothly and maneuvering with confidence is enabled by the combination of a smaller front sail, jib, and large mainsail. The technical features make course handling simple. Or to put it simply: Have fun!
If you don't quite dare to face Bura with fully extended sails, shorten the mainsail. The ergonomics and smart equipment of X-Yachts allow this maneuver to be quick and effortless.
Saying goodbye to my piers
Our guests say, the only day they didn't enjoy, was the last. Saying goodbye to your yacht can be hard after days of adventure, relaxation, and making memories together.
After all, there'll always be the next sailing trip waiting for you.